more than an accessory
we create handmade belts
The belt is not only a practical accessory, it is also a important element of the outfit. Choosing an unsuitable one negatively affects your image.
we take care of products and service
more than 14000 satisfied customers
I received the two belts ordered yesterday and I have the satisfaction of being able to say that they are even more beautiful than in the photos! A truly rewarding purchase, confirming the high quality of Italian craftsmanship. Thanks!
I ordered the three crocodile belts with the affordable 3x2 package: fast and efficient delivery even in this period. High quality handcrafted products and excellent workmanship at a very competitive price, highly recommended!
very satisfied, nice belt and excellent material. very welcome the phone call to clarify the size, thanks
Truly exceptional leather quality. A wide choice of buckles. Fast shipping and maximum availability. An old-time craftsman. I will buy again!
I got three belts from the shop. I must say that I received some truly beautiful products. Exceptional quality, I must say that I didn't think I was receiving such a beautiful product. Congratulations to the craftsman who creates them. Thanks.
I ordered a beautiful python belt arrived in a short time. Thank you to the owner for his availability and kindness. Compliments
Top belts, superior quality, extremely available and courtesy !!! To the next purchase
I highly recommend, in addition to the quality of the goods I can personally guarantee the seriousness of the owner.
Beautiful and quality belts. Fast delivery. A thousand thanks. Satisfied with the purchase.
Congratulations on your professionalism and reliability, the belt I purchased is beautiful and of excellent quality and most importantly it arrived immediately in a few days. Thank you very much
Excellent product shipping and delivery times excellent possibilities of cash on delivery and assistance always present. Advised.
Great products! Serious and reliable seller! I'm really happy ! I advise!
moderate prices good quality and kindness
Beautiful belt ... great investment
... I have just received the belt I ordered ... it is nothing short of wonderful ... maximum punctuality ... excellent material ...
Fantastic belt professionalism at most what else to say if I recommend it yes a thousand x thousand thanks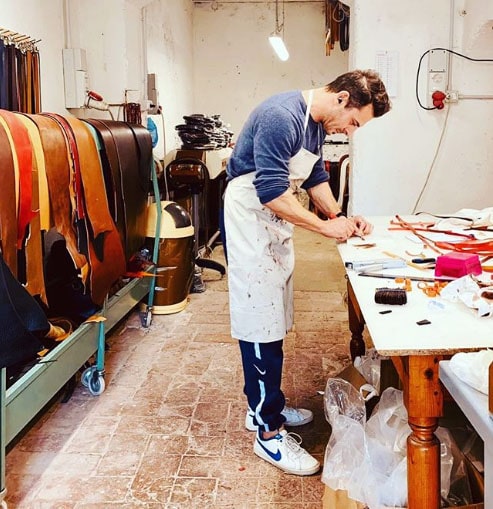 who we are
La Bottega della Cintura was born from an idea of ​​Francesco, who in the heart of Florence decides to turn his passion into a job.
Our mission is to share our passion for leather processing, creating unique products and distinctive .