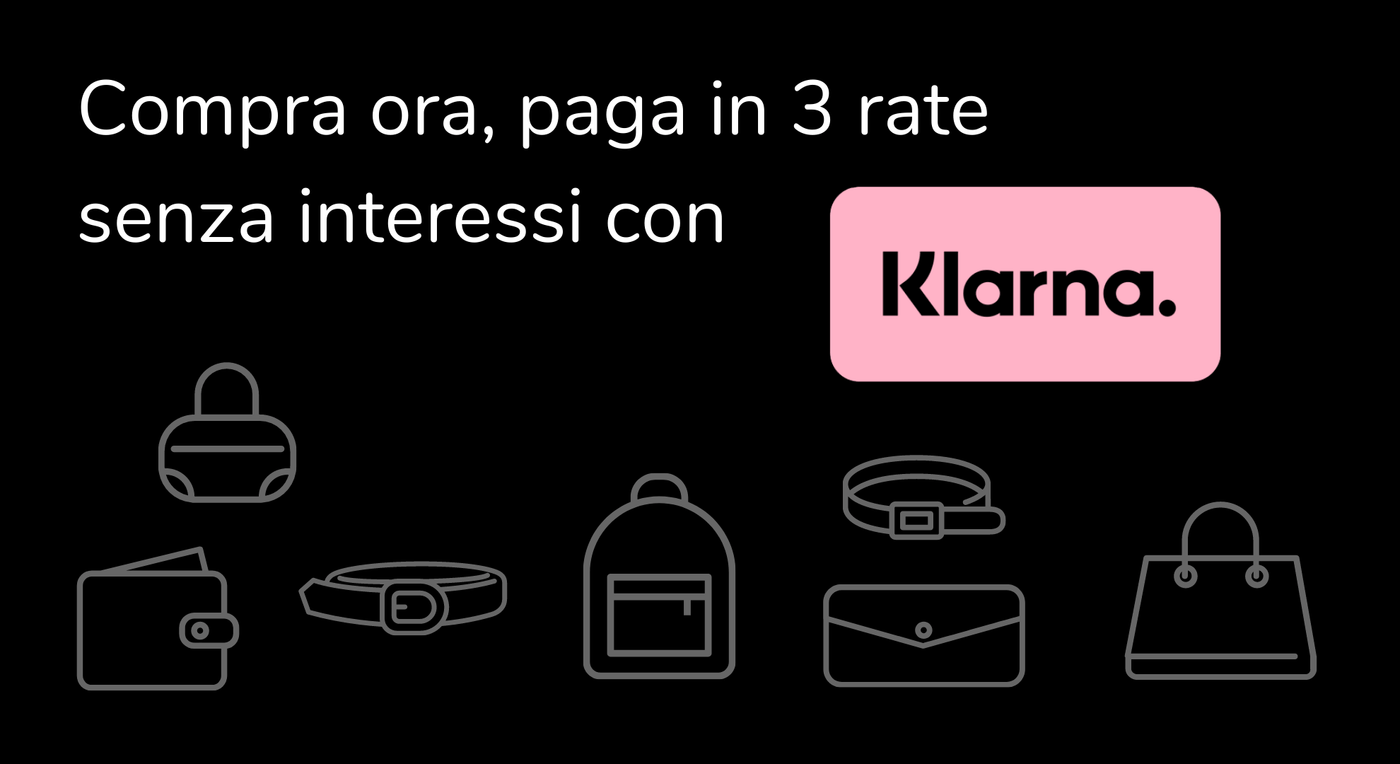 PAY EASILY
A NEW WAY OF PAYING
Your favorite online leather goods are getting closer to you!
From today, divide your payment into 3 interest-free installments.
No interest, no paycheck, no financing.
SOME GOOD REASONS TO CHOOSE KLARNA
Zero interest
Deferral of the cost of your online order in 3 interest-free installments.
Quick and easy
Payment is as easy as pay with any credit card and there are no negative outcomes.
No Stress
Klarna takes care of everything! The installments will be automatically deducted from your card.
No financing
To purchase with Klarna you do not need to start any financing procedure.
HERE'S HOW TO INSTALL YOUR PURCHASE IN 3 SIMPLE STEPS
CHOOSE THE PRODUCTS YOU WANT
Choose the products you prefer, add them to the cart and click on the Check-Out button
CHOOSE YOUR PRODUCT
SELECT KLARNA AS PAYMENT METHOD
When choosing the payment method, select "Buy now, pay later with Klarna"
If you already have an account on Klarna, log in, otherwise you can easily create it in a few clicks, before completing the order.
COMPLETE THE ORDER
Divide the cost of your purchase into 3 interest-free installments.
The first payment will be deducted when your order is shipped from the warehouse, the second after 30 days from the date of shipment, the third after 60 days .
USE KLARNA NOW
With the "Pay in 3 installments without interest" service you can defer the payment of your online order in three installments, the first will be credited to you as soon as the shipment starts, the second after 30 days from the date of shipment, and the third 30 days after the second installment. To be able to use it when making an online purchase at check-out, select the payment option "Buy now, pay later with Klarna".
Sure! Klarna, not being a loan, does not access your financial data before giving you an outcome, but instead her outcome is always positive and immediate.
Immediately after confirming your purchase you will receive an order confirmation email sent by Klarna. There you will find the payment information and a summary of your payment plan in 3 installments.
To protect your personal data, you may be required to identify yourself or create an account. Everything will be easier and you will have the possibility to manage and view your payment plan at any time.
At the moment, the Klarna payment option can be used for orders below € 35 or above € 1,000. If you need more information and are having trouble with the service, please contact Klarna directly.